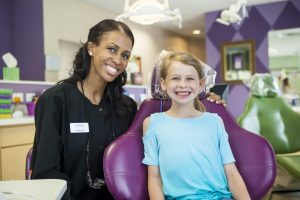 Dentistry For Kids is the perfect place for your child to learn about his or her oral health. Our amazing dental Team is devoted to helping your child have the best possible dental experience – no matter how young or old they are! We pride ourselves on involving our patients in each aspect of their dental care. By engaging them closely, we hope to build positive relationships and greater self-esteem. Implemented in the first visit, all of our new patients have their name on our New Patient display and love our office tour which will include a special gift from us!
Every month our office has a drawing to choose a patient of the month, who gets their picture taken and framed to put up in our office, recognizing that patient for a whole month! With that is another prize they win! Our patients can also enjoy monthly contests in which they have the chance to win prizes.
Our pediatric dentists, Dr. Kisha Steele Mitchell or Dr. Dana E. Nelson, will formulate a customized prevention plan for each patient taking into consideration their age and development as well as their risk for dental decay and gum disease. It is our goal to arm both you and your child with the tools to promote a lifetime of great oral health!
Our Team sincerely trusts that you and your child will find the first visit and all visits to our office comfortable and rewarding. We hope you will choose us in Huntersville, North Carolina. We appreciate your referral of family and friends to our office and thank you for your trust!